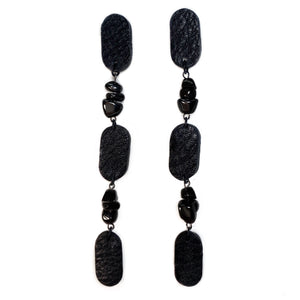 Crisp elegance punctuated with raw metallic lustre. Harmonized contrasts form the richness of life. A clean modern style for your momentous occasion or fresh flair for anytime. Hematite adds that touch of mystery. Beyond the alluring metallic sheen, this gemstone deepens your connection to the earth to calm a troubled mind & ease your spirit. It also provides strength, stability & protection. Stride tall with these earrings' carefree swing & your restored equilibrium.Feel radiant, empowered & serene like a modern goddess. 
MATERIALS Genuine leather, hematite, hypoallergenic stainless steel posts.
MEASUREMENTS Length 90 mm. 
PACKAGING Includes a stylish, soft storage bag made from tyvek ® remnants, a recyclable polyethylene textile. Embossed leather tag with WAIWAI logo.
Eco Commitment Locally-sourced materials for product, packaging & shipping are part of our goal to reduce environmental impact. Because we care.